Design. Build. Experience
We change the way people experience your spaces with a combination of design, build, technology, people, and processes.
A Place For People Who Want To Do Great
We are an army of high-performing players that like to work hard, deliver outstanding results, and have fun doing it. While we encourage diversity among our team, there are a few qualities everyone must have to work here.
INNOVATIVE
If you're not thinking of the next best thing, are you even thinking?
OTHERS-FOCUSED
We never leave each other, or our clients, behind.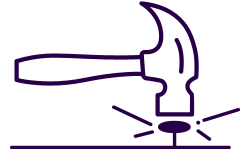 HARDWORKING
Bonus points if "Driven" is your middle name.
AUTHENTIC
We only hire good, honest people who always keep it real.
Why Work at DBSI?
There are a ton of great reasons to join the team, but just to name a few…
The Most Innovative Team You'll Ever
Work, Play, Learn, Create, Work
With
Surround yourself with talent and every day you will learn something new. As a collective, our diverse team hails from different countries, speaks over 20 languages (including code), holds over 50 advanced degrees (doctorates, included!), are creators and holders of multiple patents, and so much more.
Join an Award-Winning Team
We work hard and play hard, but we do it all with a purpose: to be the best. As a business, and as individuals, we push ourselves every day to learn, grow, and conquer. And not to brag, but our trophy case proves it. From industry awards to business recognitions to community involvement events, we have the hardware to show off our hard work.
Trust DBSI With Your Professional Growth
If you think you have value to bring to the team, we want to hear from you. The application process is painless (no first child required)!
Design and architecture professionals
Construction and pre-construction experts
Project managers and coordinators
Banking technology specialists
Sales and marketing professionals
Accounting and finance professionals
Great business minds
TLDR; If you are looking for a new company that will expand your knowledge, grow your skill set, and provides a challenge, you should drop your resume here.